The 2nd International Symposium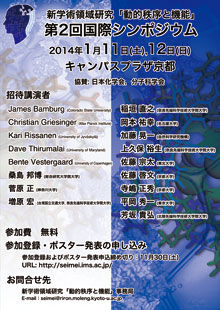 Date: Saturday 11th and Sunday 12th January, 2014
Venue: Campus Plaza Kyoto
939 Higashi-Shiokoji-Cho, Nisino-Toin-Dori Shiokoji Sagaru, Shimogyo-ku, Kyoto Japan 600-8216
Access map
Invited Speakers:
Christian Griesinger, Max Planck Institute for Biophysical Chemistry
Kari Rissanen, University of Jyväskylä
Bente Vestergaard, University of Copenhagen
Dave Thirumalai, University of Maryland, College Park
James Bamburg, Colorado State University
Hiroshi Masuhara, NCTU & NAIST
Tadashi Sugawara, Kanagawa University
Kunihiro Kuwajima, SOKENDAI
Koichi Kato, NINS
Hirofumi Sato, Kyoto University
Shuichi Hiraoka, The University of Tokyo
Masahide Terazima, Kyoto University
Hironari Kamikubo, NAIST
Takahiro Hohsaka, JAIST
Sota Sato, Tohoku University
Yuko Okamoto, Nagoya University
Naoyuki Inagaki, NAIST

Program (PDF, 128.4 KB) (last updated 27 Dec.)


The abstract submission for poster presentations has been closed. Thank you very much for your interest.
Registration was also closed.
---
Contact us:

Secretariat (Organizer: Hirofumi Sato)
---
poster/flyer